This weekend I had to go back to London to be interviewed for a job with
Maids of England
(which I got!). It sounds like it'll only be once or twice a month, but I'm super excited to start working with them! I'm always prancing around in a maid costume anyway, so I figured I might as well get paid for it haha. I can't wait to try on my new uniform!
This was my interview outfit lol
----------


On Friday I went to Japan Underground.
Outfit shot:
There were a lot less people that I knew there than I'd expected, but that actually turned out for the best, and I had loads of fun!
I missed the first bands because my train was ridiculously delayed (I am so done with London Midland), but I got to see the whole of
33Insanity'sVertebra
, who were very good.
Also, I finally met
Ellie
in person, and we were wearing the same tights!
When JPU finished, Tom, Dayle and I went drinking with 33IV (and possibly other bands, but at this point I was probably too drunk to count lol). After ambling around for a while trying to figure out what bus to take, we piled into taxis and went to Camden to go to the Electric Ballroom.
Yoshihisa (33IV's guitarist), Dayle and I eventually gave up on standing and just sat around drinking Snakebites for the rest of the night whilst I poorly interpreted between Japanese and English for them (and probably made very little sense). Apparently I spoke French and Italian to some randoms too, but I don't remember that at all. I don't even know how, but I always manage to find ALL the foreigners haha.
When the Electric Ballroom closed, we got fast food then went our separate ways. Without even thinking, I walked all the way home (about 45 minutes). I usually walk it during the day, but this time I was ridiculously drunk and wearing litas haha, so that was probably a bad idea. No idea how I didn't fall over. Luckily I survived, but my feet hurt so much the next day!
----------
I also baked a cake for my dad's birthday! It was on Monday, and I obviously had to go back to university. I feel bad that I couldn't spend it with him, but I wanted him to know I care and all </lame>...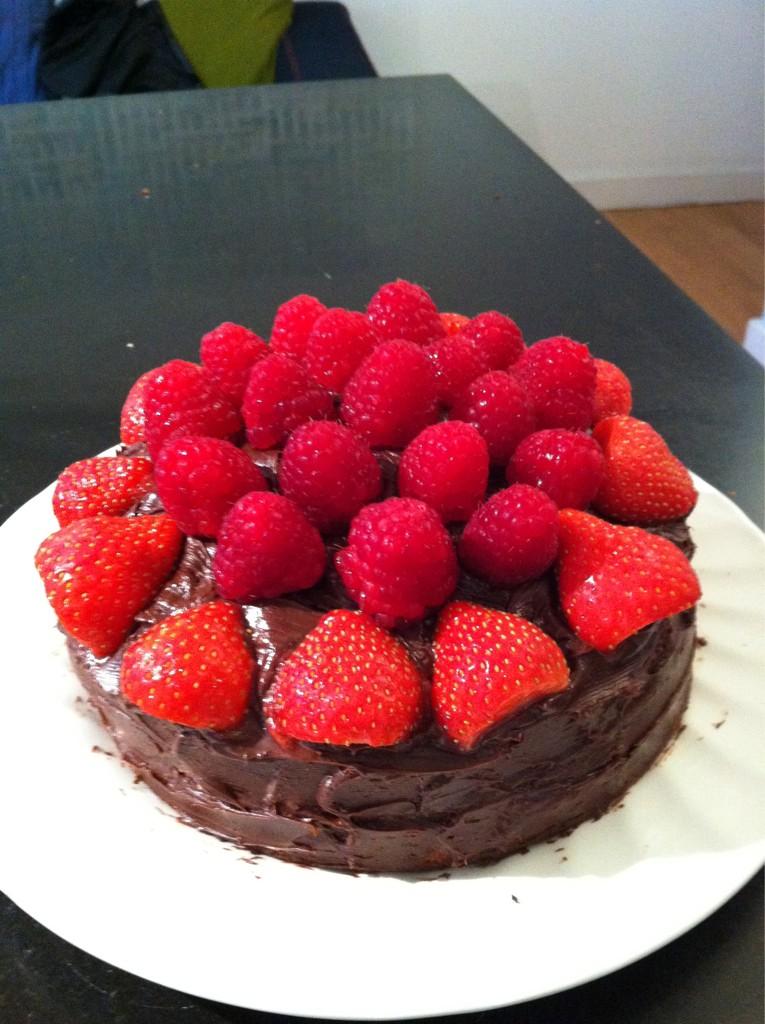 The previously-light cake weighed a tonne after I decorated it haha. At first I was like "Is this too many berries?" but then I was like "Nah, he loves berries.". I was just gonna write something on it in icing, but this should taste better (and I have terrible handwriting, so it probably looks a lot better this way, too).
Song of the day: